<![if !vml]>

<![endif]>
TRACK JAW 600X 900 CRUSHING PLANT
<![if !supportLineBreakNewLine]>
<![endif]>
CRUSHER
SINGLE TOGGLE JAW CRUSHER HAVING STEEL FABRICATED STRUCTURE WITH
MAIN BEARINGS OF AMPLE CAPACITY
CAPABLE OF CRUSHING MATERIALS HAVING COMPRESSIVE STRENGTH UP TO 320Mpa
EASILY ADJUSTABLE OPENING 65 –160mm.
A HYDRAULIC RAM IS PROVIDED FOR QUICK AND EASY SETTING OF THE OPENING
REPLACEABLE JAW AND CHEEK PLATES. ALSO REPLACEABLE SAFETY TOGGLE PLATE
<![if !vml]><![endif]>
HYDRAULIC DRIVE
CRUSHER, FEEDER, CONVEYORS AND DRIVE ARE DRIVEN BY STURDY HYDRAULIC MOTORS FROM PUMPS DRIVEN BY POWERFUL DEUTZ ENGINE.
HYDRAULIC VARIABLE-SPEED DRIVE AND FORWARD OR
REVERSE MOTION [IN CASE OF MATERIAL JAMMING IN THE CRUSHER]
FROM A SINGLE LEVER FROM THE CONTROL PANEL.
AS THE ROTATIONAL SPEED CAN BE ADJUSTED TO SUIT THE TYPE OF MATERIAL, OPTIMUM CRUSHING EFFICIENCY IS ACHIEVED.
THE HYDRAULIC CIRCUIT IS A CLOSE LOOP CIRCUIT HAVING A HYDRAULIC MOTOR DRIVEN BY AN INDEPENDENT VARIABLE PUMP WHICH RESULTS IN MAXIMUM EFFICIENCY AND FUEL ECONOMY.
THE HYDRAULIC DRIVE HAS PROVISIONS FOR EXTRA HYDRAULIC POWER TO DRIVE ANY ADDITIONAL EQUIPMENT IN CONJUNCTION WITH THIS TRACK CRUSHER.
THE GRIZZLEY FEEDER, CONVEYOR FOR GRIZZLEY FEEDER AND MAIN CRUSHER CONVEYOR ALL HAVE A VARIABLE SPEED DRIVE WHICH PERMITS OPTIMUM SPEED OF THE VARIOUS DRIVES FOR MAXIMUM FUEL ECONOMY.
THE CRUSHER MOTOR AND PUMP ARE COOLED BY HYDRAULIC OIL WHICH IS COOLED BY A FORCED FAN COOLER BEFORE DISCHARGING TO TANK.
ALL THESE FEATURES PERMIT EFFICIENT RUNNING OF THE PLANT.
HOPPER
<![if !vml]>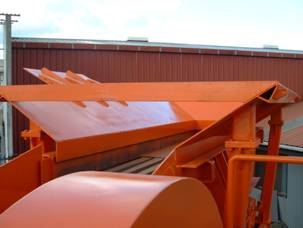 <![endif]>HOPER OF AMPLE CAPACITY WHICH IS FIXED AND CAN BE ACCESSED FROM THREE SIDES PERMITS ---
USE OF LOADING USING LARGE CAPACITY BUCKETS
GREATER FREEDOM IN POSITIONING OF THIS CRUSHING PLANT ON SITE FACILITATES USING IT IN COMBINATION WITH OTHER UNITS LIKE SCREENER / SECONDARY CRUSHING PLANTS LIKE CONE CRUSHER OR HAMMER MILL
<![if !vml]>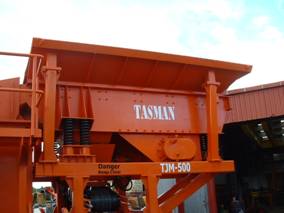 <![endif]>

VIBRATING GRIZZLEY FEEDER
1—FEEDS THE MATERIAL GRADUALLY TO THE CRUSHER AND ITS SPEED CAN BE REGULATED TO PREVENT OVERLOADING OF <![if !vml]>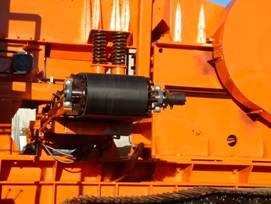 <![endif]>THE CRUSHER.
2—IT SEPARATES MUCK AND UNWANTED MATERIAL RESULTING IN FULL UTILIZATION OF CRUSHING CAPACITY AND INCREASED OVERALL OUTPUT.
A 450MM WIDE CONVEYOR IS PROVIDED TO DUMP MUCK AND MATERIAL BELOW CRUSHING SIZE IN A SEPARATE PILE. THE BELT SPEED OF THIS CONVEYOR CAN BE ADJUSTED TO SUIT THE AMOUNT OF MATERIAL IT IS REQUIRED TO HANDLE TO MINIMISE ENERGY REQUIREMENTS.
<![if !vml]>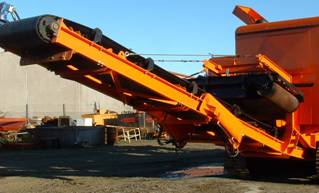 <![endif]>
10M LONG LARGE CAPACITY VARIABLE SPEED CONVEYOR FITTED WITH IMPACT & GUIDE ROLLERS, IS OVER 2500mm HIGH [measured from centre of roller] ABOVE GROUND, PERMITTING BIG PILES

WHICH HELP IN CASES OF SPACE CONSTRAINTS.
<![if !vml]><![endif]>
THE CONTROL PANEL
THE ENTIRE MACHINE CAN BE CONTROLLED FROM THE "EASY TO UNDERSTAND" CONTROL PANEL.
<![if !supportLists]>· <![endif]> THE DIESEL MOTOR CONTROLS WITH INDICATING LIGHTS
<![if !supportLists]>· <![endif]>PRESSURE GAUGES INDICATE INDEPENDENTLY PRESSURE OF EACH PUMP.
<![if !supportLists]>· <![endif]>ON / OFF ROTARY SWITCHES TO CUT IN / OUT CONVEYORS AND <![if !vml]>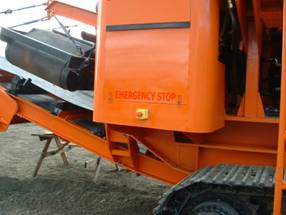 <![endif]>FEEDER, WITH INDICATING LAMPS.
<![if !supportLists]>· <![endif]>LEVER OPERATED ARRANGEMENT FOR RAMS FOR FOLDING CONVEYORS AND DRIVING OPTIONAL EQUIPMENT LIKE MAGNETIC SEPERATOR CONVEYOR.
"SAFETY FIRST"
EMERGENCY SELF LOCKING BUTTONS RIGHT IN THE CENTRE OF CONTROL PANEL AND ON BOTH SIDES OF THE CRUSHER OPERATABLE FROM GROUND.
<![if !vml]>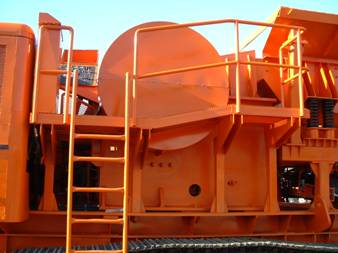 <![endif]>SAFETY GUARDS ON ALL ROTATING AND MOVING PARTS
<![if !supportLists]>· <![endif]>PLATFORM HEIGHT TO PROVIDE NECESSARY VISIBILITY, WITH RAMPS [NO STEPS].
<![if !supportLists]>· <![endif]>WALKWAY WITH HANDRAILS
<![if !supportLists]>· <![endif]>SEPARATE PANEL FOR DRIVING ONLY—HAVING ONLY TWO LEVERS-PROTECTED BY LOCKABLE COVER TO PREVENT ACCIDENTAL OPERATION.
MAINTENANCE FREE
NOTE: ALL COMPONENTS USED IN THIS MACHINE ARE FROM THE LEADING MANUFACTURERS AND OF HIGH QUALITY.
SIMPLE STRAIGHT FORWARD DESIGN FREE OF COMPLICATED ELECTRONICS AND HIGH QUALITY COMPONENTS ENSURE TROUBLE FREE SERVICE.
<![if !vml]>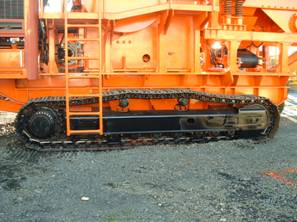 <![endif]>
MOBILITY
THE PLANT CAN TRAVEL OVER ROUGH TERRAIN AS IN QUARRY OR AT DEMOLITION SITE.
THE DRIVE MOTORS OF EACH SIDE IS FED BY TWO SEPARATE PUMPS.
THE CONVEYORS CAN BE FOLDED, WITH SUFFICIENT CLEARANCE BETWEEN GROUND AND MAIN CONVEYOR, THUS PROVIDING FOR EASE OF TRANSPORT.
<![if !vml]>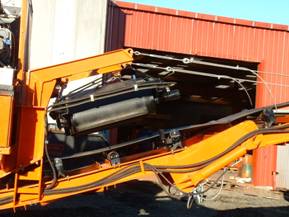 <![endif]>
MAGNETIC SEPARATOR---
A STANDARD FEATURE
A MAGNETIC SEPARATOR IS FITTED OVER THE MAIN CONVEYOR TO SEPARATE STEEL FROM THE CRUSHED DEBRIS, SO THAT CRUSHED CONCRETE CAN BE RECYCLED FOR CONSTRUCTIONAL USE.
SPECIFICATIONS—
MAGNETIC FIELD INTENSITY –63 Mt SUITABLE FOR 800mm WIDE BELT
RECOMMENDED SUSPENSION HEIGHT 200mm WEIGHT 1400Kg DIMENSION 2460X1253X 737
<![if !vml]>

<![endif]> SPECIFICATIONS
CRUSHER TASMAN 600X900
| | |
| --- | --- |
| SIZE OF FEED OPENING | 600 X 900 mm |
| MAXIMUM FEED SIZE | 500mm |
| ADJUSTABLE RANGE OF DISCHARGE OPENING | 65 –160 |
| CRUSHING CAPACITY | 30-75CUBIC METERS[ UP TO 170T OR MORE DEPENDING ON MATERIAL] |
CONVEYORS # FOLDING TYPE FOR TRANSPORT
MAIN CONVEYOR #

10M LONG X 800 mm WIDE

BY PASS CONVEYOR

#

3.8M LONG X 450 mm WIDE

MAGNETIC SEPARATOR

2.5M LONG X 785 mm WIDE
<![if !vml]>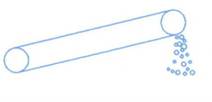 <![endif]>
GRIZZLEY FEEDER HORIZONTAL TYPE - VARIABLE SPEED
<![if !vml]>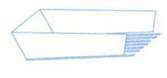 <![endif]>
MAXIMUM FEED SIZE

500mm

SIZE OF HOPPER

3800 X960

CAPACITY

UP TO 170T

[DEPENDING ON MATERIAL]

ECCENTRIC SHAFT SPEED

500- 714 RPM
ENTIRE PLANT IS HYDRAULICALLY DRIVEN
<![if !vml]>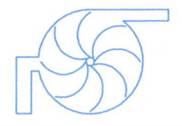 <![endif]>
<![if !vml]>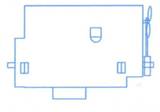 <![endif]>ENGINE DEUTZ BF6m1013EC
WATER COOLED Turbo Intercooled
6 CYLINDER-108 BORE X 130 STROKE
COMPRESSION RATIO 17.6
174 Kw @ 2300rpm
HYDRAULIC TANK

700L

DIESEL

TANK

380 L
<![if !vml]>

<![endif]>TANKS
<![if !vml]>

<![endif]>
DIMENSIONS
WEIGHT 35T APROX
<![if !vml]>

<![endif]>
[WORK] 13620Lx5080Wx3980H
[TRANSPORT] 10960Lx2970Wx3980H
Due to CONTINUOUS PROCESS OF IMPROVEMENTS & DEVELOPMENT,
MATERIALS MANAGEMENT & SUPPLIES LTD. RESERVE THE RIGHT TO CHANGE SPECIFICATIONS WITHOUT PRIOR NOTICE!
<![if !vml]>

<![endif]> Video
<![if !vml]>
<![endif]>
<![if !vml]>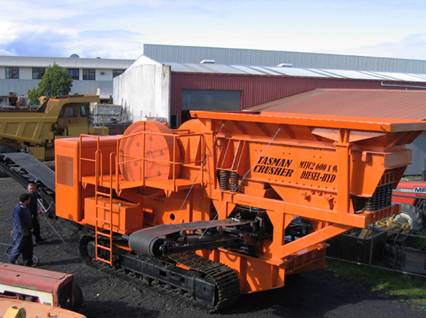 <![endif]>